"Highest Ranked Large Car, Compact Car, Small SUV, Midsize SUV,
and Compact Multi-Purpose Vehicle in Initial Quality"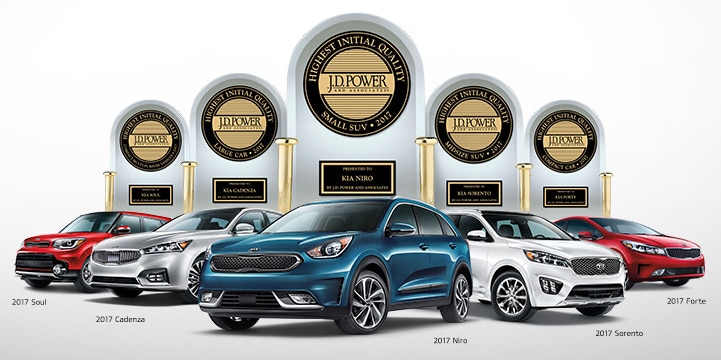 *The Kia Cadenza, Kia Forte, Kia Niro, Kia Sorento, and Kia Soul received the lowest number of problems per 100
vehicles reflecting higher quality in their respective segments in the J.D. Power 2017 U.S. Initial Quality (IQS) Study, based on
77,419 total responses, evaluating 189 models, and measures the opinions of new 2017 vehicle owners after 90 days of
ownership, surveyed in February-May 2017. Your experiences may vary. Visit jdpower.com/cars.
 2017 Kia Sportage LX

 

 

 

 

 

 

 

 







 

*Disclaimer: #17533 2017 Sportage LX $179 mos;36 mos, 10,000 mi/year, zero cash/trade, due at lease signing including 0 sec deposit. First payment, tax and registration fees additional. Tax and fees additional. Lease and finance options w/ approved credit thru Kia Motors Finance.  0% for a term of 60 months corresponds to a monthly cost of $16.67 per $1000 financed Some may not qualify.Offer ends 09/05/2017

 2017 Kia Forte LX

 

 

 

 

 

 







 

*Disclaimer: #17478 2017 Forte $139 mos;36 mos, 10,000 mi/year, zero cash/trade, due at lease signing including 0 sec deposit. First payment, tax and registration fees additional. Tax and fees additional. Lease and finance options w/ approved credit thru Kia Motors Finance. 0% for a term of 66 months corresponds to a monthly cost of $15.15 per $1000 financed Some may not qualify.Offer ends 09/05/2017 
 2017 Kia Sorento LX

 

 

 

 

 

 

 

 

 

 

 

 

 

 

 




 

*Disclaimer: #17641 2017 Sorento $199 mos;36 mos, 10,000 mi/year, zero cash/trade, due at lease signing including 0 sec deposit. First payment, tax and registration fees additional. 0% for a term of 60 months corresponds to a monthly cost of $16.67 per $1000 financed Some may not qualify. Tax and fees additional. Lease and finance options w/ approved credit thru Kia Motors Finance. Offer ends 09/05/2017.

 2017 Kia Soul

 

 

 

 

 

 

 

 

 

 

 

 

 




 

*Disclaimer: #17641 2017 Soul $159 mos;36 mos, 10,000 mi/year, zero cash/trade, due at lease signing including 0 sec deposit. First payment, tax and registration fees additional. Tax and fees additional. Lease and finance options w/ approved credit thru Kia Motors Finance. 0% for a term of 66 months corresponds to a monthly cost of $15.15 per $1000 financed Some may not qualify.Offer ends 09/05/2017
 

 

 

 

 

 

 

 

 

 

 

 

 

 

 

 




 

*Disclaimer: #17617 2017 Optima $169 mos;36 mos, 10,000 mi/year, zero cash/trade, due at lease signing including 0 sec deposit. First payment, tax and registration fees additional. Tax and fees additional. Lease and finance options w/ approved credit. 0% for a term of 66 months corresponds to a monthly cost of $15.15 per $1000 financed Some may not qualify.Offer ends 09/05/2017

 

 

 

 

 

 

 

 

 

 

 

 

 

 

 

 




 

*Disclaimer: #17537 2017 Niro $239 mos;36 mos, 10,000 mi/year, zero cash/trade, due at lease signing including 0 sec deposit. First payment, tax and registration fees additional. Tax and fees additional. Lease and finance options w/ approved credit. Offer ends 09/05/2017 EPA Estimated MPG City/ MPG Hihgway